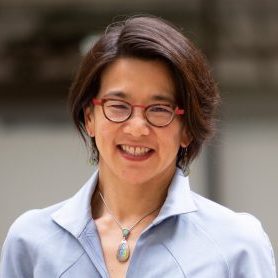 Dr. Erica Pan has been leading CPR³'s vision since its inception and has played a critical role in guiding the CPR³ research prioritization process. She has been working with colleagues at UCSF and other academic partners to develop a University of California (UC) COVID-19 modeling consortium, as well as soliciting academic advisory input on COVID-19 vaccines, Mpox response, and other aspects of California's pandemic response. As a pediatric infectious disease specialist, a clinical professor in the Department of Pediatrics at UCSF, and expert in local and state public health, Dr. Pan appreciates the effect that the COVID-19 pandemic has had on California's youngest and most vulnerable residents, and hopes CPR³ can inform ways to mitigate these impacts in the future. 
Dr. Pan was sworn in as the Deputy Director of the Center for Infectious Diseases and State Epidemiologist for CDPH on July 13, 2020. During this time and at present, she serves as one of the co-Directors of the CDPH Medical Health Coordination Center, which has addressed COVID-19, Mpox, Ebola planning, heat waves, and more. She also co-chaired the California COVID-19 Community Vaccine Advisory Committee and chairs the Mpox Scientific Advisory Committee and is grateful to directly hear input from the Western States Scientific Safety Review Workgroup for COVID-19 vaccines.
Prior to joining CDPH, Dr. Pan served as the Alameda County Health Officer, the Director of the Division of Communicable Disease Control and Prevention, and Deputy Health Officer at the Alameda County Public Health Department. During her local health department experience she co-chaired the Association of Bay Area Health Officials Emergency Preparedness Subcommittee and responded to the 2009 H1N1 pandemic, Zika, Ebola, and measles outbreaks among other infectious disease emergencies. 
Dr. Pan is a mother of two and has been returning to her passion for competing in triathlons.