Working with experts in public health, academic research, and community engagement, and with oversight from the CPR3 Scientific Steering Committee, CPR3 identified four research priority areas to inform pandemic recovery and readiness. For each topic area, a competitive request for proposal (RFP) process was initiated and proposals were evaluated and awarded based on CPR³'s goals of informing public health decision-making, and improving the health and wellbeing of people throughout the state of California, especially our most vulnerable residents.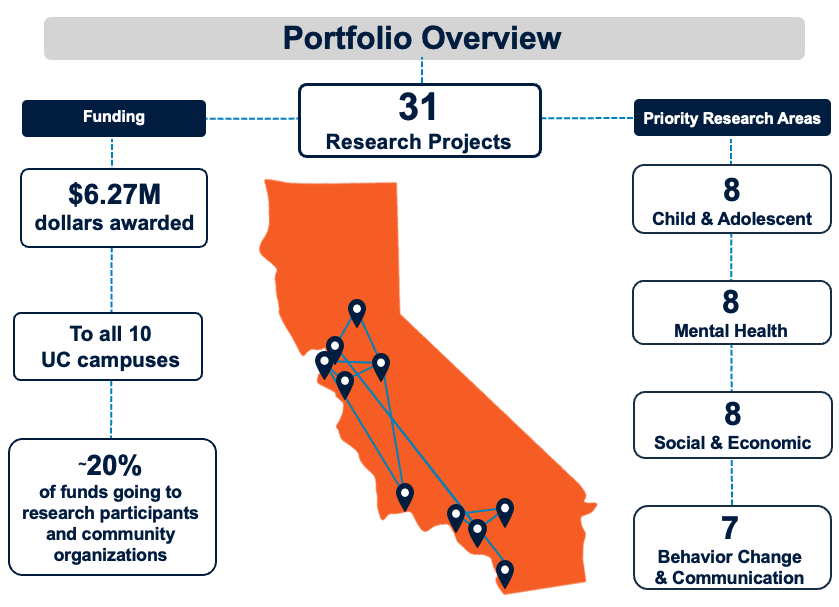 CPR3's research portfolio comprises 31 projects led by teams representing all 10 University of California (UC) campuses. A few highlights include: 
Funded investigators hail from a range of academic backgrounds, such as legal studies, nutrition and agriculture, behavioral and communication sciences, clinical care, implementation science, and more.
CPR3-funded projects include collaborations with over 45 organizations – from community-based organizations to government agencies to school districts – all are critical to the design, execution, interpretation, and dissemination of the projects.
Projects represent diverse populations, communities, and geographies throughout California, from those living in densely populated urban settings like Los Angeles and the Bay Area to those living in rural and agricultural lands, like those in Yolo, Placer, and Kern Counties.
To view the funded projects from each priority research area, click on the buttons below.